Your Local Source for Encino Shutters & Blinds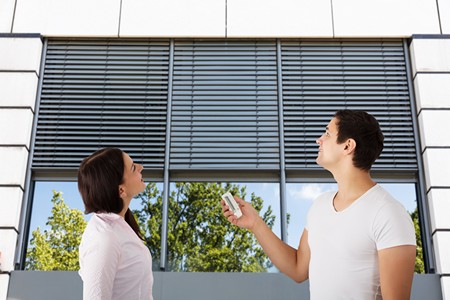 If you are looking for an Encino shutters or window blinds company to work with for professional window coverings, you want to feel confident that you are making the right choice. Yet how can you really be sure that you are choosing the best service when it comes to blinds or shutters in Encino, CA unless you have had the experience to work with them yourself? For starters, all you have to do is ask and search around and you will hear the same answer time and time again - NNK Window Covering. We give you the chance to get to know our experts much better by scheduling your free in-home estimate which will help you quickly see how dedicated we are to the satisfaction of our customers.
It certainly doesn't help that we also try to think of the details, such as providing you with window shade service to give you more choices for customized window treatments in Encino, CA. The best part is that you can reach your goal of tailor-made window coverings by going through our steps of a design consultation, free measuring, and expert installation. All of our prices are competitive for your budget you will wonder if you have to select between quality or affordability and we are here to tell you that you get it all! Give our shutter company a call to begin. We'll be happy to provide you with information on our latest specials or a quick estimate for window treatments like plantation shutters in Encino.
Your Specialist Choice for an Encino Window Blind Company
It doesn't matter if you would actually prefer window blinds in Encino, we can offer that for you as well. It is important to us to be able to provide a diverse selection because that is part of making sure that you never have to settle. This is your home and your financial investment, so why would you accept window treatments that you are not completely satisfied with? Too many homeowners end up accepting products or prices that they are not satisfied with just because they have been forced into a limited choice.
Our goal is to help prevent that from happening by showing you the selection, looks, and affordability you need. This includes only offering the best in products that are known for longevity and durability because your window treatments should be able to last for years to come. From real wood blinds to woven wood shades and more, we are not completely satisfied with the results of the job until you are, so give us a call today to find out more about what we have in store for you.
Encino Window Treatment Specialists
For all of your window covering services, the Encino shutter company that you can count on is NNK Window Covering. With 25 years of hands-on experience in the industry, we know what it takes to professionally deliver total satisfaction on every job that we do. From polycore and plantation shutters to real wood window blinds, we've got your windows covered. Give our Encino shutters company a call today and let us provide you with the quality in workmanship, products, customer care and pricing that you have earned.
Plantation Shutters
Plantation Shutters offer your Rosemead home the timeless quality of heirloom furniture. Whether you're interested in hardwood shutters or our synthetic Poly Shutters, we offer the quality brands you're looking for from Hunter Douglas, Norman, Graber, and Horizons Window Fashions.
Window Blinds
Window blinds offer you the most versatility in interior design as well as functionality. They can be paired with draperies or just a beautiful stylish cornice. Our selection of wood blinds, faux-wood blinds, and other styles can be custom matched or chosen in styles to go with the woodwork in your home.
Window Shades
Window shades offer you much more privacy and work better to control the light through the windows than blinds. We carry a vast selection of fabric, metal, and woven shades with optional motorization to give you the ultimate in privacy, light control, and functionality.
Custom Draperies
Are you ready to put the real wow-factor in your interior design? Our custom draperies fit the bill. Fabrics are hand selected from around the world and are available in a vast array of designer fabrics. If luxury and softness needs to be integrated into your design, our custom draperies are a great solution.
Motorized Window Treatments
We carry a complete selection of motorized window treatments and also offer other operating systems for your window shades and blinds. Just let us know you're interested in motorized window treatments when we meet you at your Rosemead home or office for a design consultation!