Solar Screens For Your Los Angeles Area Home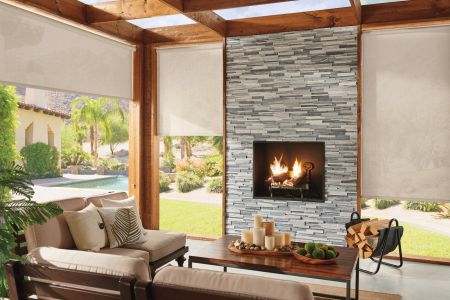 Our collection of window screens offer exceptional light control for your windows while setting a clean, modern design for your Los Angeles home or office. NNK Window Covering offers a selection of solar screens and roller screens in a wide range of materials and fabrics.
Our window treatment company works with the best name-brand manufacturers in the business. We're your local Hunter Douglas and Norman dealer serving the entire Los Angeles area.
With energy costs constantly fluctuating, the smart homeowner is now searching for ways to make their own homes more energy efficient.
When the temperature outside begins to drop, the natural light from the Southern California sun becomes your greatest ally. Our solar screens can help you keep the interior as cool as possible without shutting your entire life off from the outside world.
INTERIOR SOLAR SCREENS
Our interior solar screens from Hunter Douglas combine the simplicity of a roller shade with an intriguing curved design.
The Sonnette™ Cellular Roller Screens feature energy-efficient construction along with two fabric layers that create a beautiful glowing light for any room.
Our Designer Roller Screens combine the ease and simplicity of a roller shade with hundreds of fabric choices—sheers to opaques, patterns to textures, and traditional solid colors.
For excellent UV protection while maintaining your view of the outdoors, our Designer Screen Shades are available in varying levels of openness. Offering a minimal yet sophisticated look with light control, color and style, they are the perfect shade for any room in the home even your patio or sunroom.
EXTERIOR SOLAR SCREENS
Form and function go hand-in-hand with the exterior solar screens we custom make specifically for the clients we serve. Our exterior solar screens are built to do more than just simply match your home's exterior design, they'll add value, comfort, and solar protection to your home.
Our design team and our installation contractors are constantly educating themselves on the latest exterior solar screen technologies and styles.
Whether you want solar screens for a small patio, a second story patio, or the entire wrap-around porch, we'll help you find the perfect product and install it for you with expertise.
When you establish a partnership with our professionals who are focused on customizing your space, you can accomplish all your design and solar protection goals.
ROLLER SCREENS
As your local Norman window treatment professional, we offer a wide range of roller screens for your Los Angeles home. With Norman, we can offer you the smartest roller screens on the market.
Don't let the color choices, sumptuous fabrics and exotic textures of roller screens confuse you because at NNK Window Covering, our designer helps you sort through all the styles.
Explore our array of versatile roller shades by contacting us to set up a free design consultation. Our designer can help you discover why custom window screens from Norman® are the best on the market and offer the ultimate in quality, light control, energy efficiency, and safety.
You'll have limitless choices in roller screens made from exceptional fabrics in a rainbow of colors, textures, and light penetration options ranging from translucent to black-out.
They offer a patented lift systems and brand name motorization, a perfect choice for every application or lifestyle whether residential or commercial
5 Reasons Choose Plantation Shutters
Are you thinking about purchasing Plantation Shutters but aren't sure if they're the right solution? As part of our job at NNK Window Covering, we help people to choose the right window treatments fo […]
Shades VS Blinds
Shades and blinds offer both form and function to enhance your windows. As a Los Angeles window covering company, we're happy to educate you on the differences between shades vs. blinds and where eac […]