Custom Draperies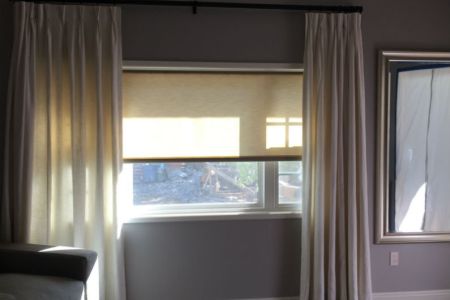 More and more home and business owners in Los Angeles are looking for soft window treatments instead of hard ones. This is because window coverings, especially draperies, are useful not only to block sunlight but also to enhance the aesthetic appeal of an interior space.
With the right fabric color, thickness, and size, draperies from our Los Angeles professionals at NNK Window Covering, you can add privacy and protect your interior space from solar heat. They can even act as a sound barrier for homes with hardwood flooring, and when paired with other treatments like window blinds, they offer a complete look for your windows.
Feel secure and comfortable in your home by choosing our Los Angeles window treatments. We are the reliable source for all of your draperies, drapery hardware, and sliding panels. Our inventory features a wide variety of eye-catching fabrics, finials, rods, accessories, and more.
Personalized In-Home Design Consultations
Custom Draperies Made to Fit
Wide Selection of Fabrics & Drapery Hardware
DRAPERY HARDWARE
From basic rod-pocket to timeless drapes, we have you covered. Our team strives to provide you with products and services that meet, if not exceed, your expectations. To do this, we work closely with you to learn about the exact type of window covering you're looking for.
In addition, our team collaborates with other companies that have some of the finest materials in the industry.
We are a trade partner of the RM COCO Custom Creations, which offers a large selection of beautiful fabrics, finials, rods, and accessories. When it comes to hardware, we have the following:
Finestra Wood Hardware Collection
Metal Hardware by AriA
Metal/Iron Hardware by COCO Deco
SLIDING PANELS
Whether you want beautiful draperies, modern sliding panels, or both, we have what you're looking for. We will help you find the perfect sliding panels for your sliding glass doors or any other area that exactly fits and completes your interior design.
Our team has more than 20 years of experience in window fashion, and we keep ourselves updated with the latest trends in sliding panels the industry has to offer.
When you work with us, we will recommend items that accurately reflect the design you have in mind as well as complement the style of your interior spaces.
5 Reasons Choose Plantation Shutters
Are you thinking about purchasing Plantation Shutters but aren't sure if they're the right solution? As part of our job at NNK Window Covering, we help people to choose the right window treatments fo […]
Shades VS Blinds
Shades and blinds offer both form and function to enhance your windows. As a Los Angeles window covering company, we're happy to educate you on the differences between shades vs. blinds and where eac […]