Your Trusted Window Blind Company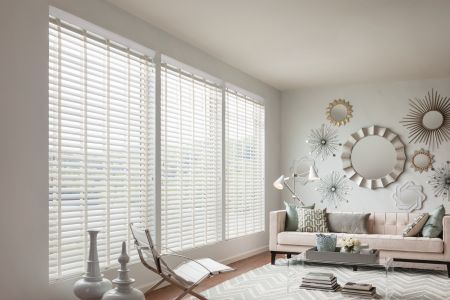 NNK Window Covering offers an array of window blinds to make any room you're decorating more functional and appealing. Our window blind company can help you find attractive and affordable custom window blinds for your Los Angeles home or business.
The windows in your home are capable of so much more when you enhance them with the beautiful window coverings in L.A. we offer. Your windows deserve more than just simple coverings, and our collection from Hunter Douglas and Norman are exactly what you need to bring them to life.
Our designer is ready to discuss your ideas and our full suite of products during a free in-home consultation. If you choose to move forward, our process begins with accurate measurements.
Once we have a clear idea of the space we have to use, and the available exposure to sunlight, our designer can help you select the perfect window blinds!
Wood Blinds
The versatility of our wood blinds makes them compatible with any home or business. Choose from a broad array of options in our natural wood blinds. Each room can offer a warm and earthy look that's sure to make your home welcoming to family and friends.
Our window treatment company carries the most beautiful Hunter Douglas Parkland® Wood Blinds. They offer rich traditional styling of stained or painted wooden blinds. We want to show you our wooden blinds so you can see their quality for yourself.
If you give our window blind company a call for a design consultation, we can show you how the beautiful Parkland® style can bring warmth and comfort to your home.
Another rich wood blind which is handcrafted and custom made to fit is our Graber Traditions® Elite Wood Blinds. You can choose from a variety of beautiful paint and stain finishes to match your home décor. The rustic feel of rich hardwood blinds will add natural insulation and character to any room.
Faux Wood Blinds
Our faux wood blinds are available in a broad array of textures that resemble natural wood textures and just about every color you can think of. Our designer brings the showroom and our selection of faux wood blinds directly to your home or office.
We offer a wide range of Hunter Douglas faux wood blinds including EverWood® Distinctions™. This selection offers the distinctive warm look of wooden blinds but are made to withstand heavy use and high-traffic areas.
EverWood® TruGrain™ are ideal for areas of your home with high humidity and UV light exposure. They're available in beautiful stain finishes with beveled and flat slat options.
Our synthetic faux wood blinds, EverWood® Renditions™, are available in beautiful wood-grains, stains, and finishes.
Aluminum Blinds
Our sunny skies in Los Angeles are one of the reasons people flock to this area every year to make it their home as well. You can control this natural light wherever you are in your home with our vast selection of aluminum blinds.
From providing maximum privacy, creating an open and welcoming atmosphere, and being able to control sunlight exposure, our aluminum blinds really do it all.
Mini Blinds
Our mini blinds are made with sleek, thin aluminum or vinyl slats which allow the maximum amount of light trough your windows when the slats are opened.
The selection of mini blinds and macro blinds we offer from Hunter Douglas are available in a wide variety of 1 1/2" and 1" slats which come in beautiful modern textures and color finishes. You can select textured finishes in stone, brushed brass, linen, and smooth precious metal mini blind styles.
You can choose contoured and beveled headrails to go with your mini blinds several styles. Let our designer show you some options today!
Vinyl Blinds
Say goodbye to the standard white vinyl blinds you've been living with for too long. Instead, fill your favorite rooms with color and character with our selection of beautiful vinyl blinds. They're available in a beautiful selection of stain and paint colors that are sure to match the interior design you have in mind.
Our vinyl blinds are available from Hunter Douglas. We custom fit them to all size windows including patio doors and French Doors. Vertical Solutions,® is an affordable vinyl blind available in 3 1/2" styles and a variety of fabric or vinyl styles and colors.
Somner® Custom Vertical Blinds are also perfect for a patio door, available in beautiful colors and textures. You can choose from durable vinyl blinds, contemporary fabrics, or smooth metal aluminum finishes.
5 Reasons Choose Plantation Shutters
Are you thinking about purchasing Plantation Shutters but aren't sure if they're the right solution? As part of our job at NNK Window Covering, we help people to choose the right window treatments fo […]
Shades VS Blinds
Shades and blinds offer both form and function to enhance your windows. As a Los Angeles window covering company, we're happy to educate you on the differences between shades vs. blinds and where eac […]