NNK Window Covering: Tarzana's Premier Shutter Company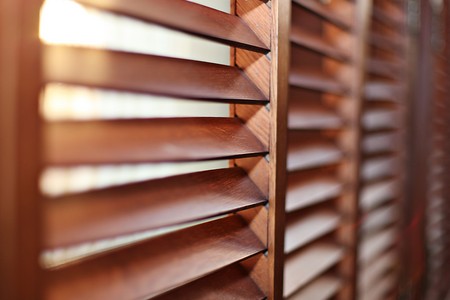 Tarzana's favorite shutter company is also your best source for window treatments of every kind. Privacy, light control, and energy efficiency are just a few of the reasons for Tarzana's home and business owners for installing or updating their window coverings. And while our town's name suggests the San Fernando Valley/Los Angeles weather, we all know that blinds, shades, shutters, and window treatments are an important factor in controlling various weather elements in our Tarzana interior spaces.
Tarzana's leading shutter company is also Tarzana's authority on window treatments of every variety with customized shutters, shades, and blinds for total design coordination.
You Won't Find Better Window Blind Experts in Tarzana or the Entire Los Angeles County
We've got a stunning selection of top-quality Hunter Douglas window blinds with something to fit every need and style. We've got wood, aluminum, vinyl, and composite blinds to fit every budget. There are so many colors, textures, and features to choose from that you'll be glad that our design consultants are there to guide and assist in your search. Select wider slats for a modern, contemporary look or thinner slats for a classic, traditional look, but whatever your window blind design preference is, we've got the inventory and know-how to bring your vision to fruition.
NNK Window Covering is More Than Tarzana's Preferred Shutter Company
Did you know that Tarzana is fast-growing with its restaurant, book selling, and language education industries? We're excited that with every new Tarzana resident, we get to explore new and unique design styles in making their window treatment dreams come true. Our inventory is constantly growing to stay on top of the trends and new developments in the industry, as well as with the ever-increasing Los Angeles County population. In addition to shutters, blinds, and shades of every type, we're also here to provide motorization and window treatment repairs. Choose from thousands of window treatment products such as plantation shutters, wood blinds, faux wood blinds, aluminum blinds, roman shades, cellular shades, roller shades, and much more that reflect your own unique style and character.
Plantation Shutters
Plantation Shutters offer your Rosemead home the timeless quality of heirloom furniture. Whether you're interested in hardwood shutters or our synthetic Poly Shutters, we offer the quality brands you're looking for from Hunter Douglas, Norman, Graber, and Horizons Window Fashions.
Window Blinds
Window blinds offer you the most versatility in interior design as well as functionality. They can be paired with draperies or just a beautiful stylish cornice. Our selection of wood blinds, faux-wood blinds, and other styles can be custom matched or chosen in styles to go with the woodwork in your home.
Window Shades
Window shades offer you much more privacy and work better to control the light through the windows than blinds. We carry a vast selection of fabric, metal, and woven shades with optional motorization to give you the ultimate in privacy, light control, and functionality.
Custom Draperies
Are you ready to put the real wow-factor in your interior design? Our custom draperies fit the bill. Fabrics are hand selected from around the world and are available in a vast array of designer fabrics. If luxury and softness needs to be integrated into your design, our custom draperies are a great solution.
Motorized Window Treatments
We carry a complete selection of motorized window treatments and also offer other operating systems for your window shades and blinds. Just let us know you're interested in motorized window treatments when we meet you at your Rosemead home or office for a design consultation!