Wood Blind Cleaning Tips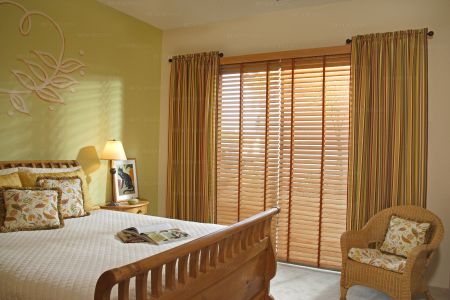 Wood blinds are one of the most popular window treatments in Los Angeles because they're usually the most affordable option and they pretty much go with everything. Whether you have wood blinds or other window blinds, cleaning them is important but not always easy to do.
Some of the cheaper wood blinds are much more fragile, so you do need to be careful when cleaning them or else the louvers and operating mechanisms may get damaged.
As a Los Angeles window covering company, our professionals at NNK Window Covering install and repair window blinds all the time, and sometimes the repairs are because the owner dunked them in the tub or swimming pool to clean them.
We wanted to share the following few tips on wood blind cleaning so you know what works best as well as what not to do!
The Don'ts of Wood Blind Cleaning
Cleaning your wooden blinds outside with a garden hose is a definite no-no. Also, don't dunk them in a tub or swimming pool or the operating mechanism might rust and the wood dry out.
Even though cleaning window blinds this way is easy, it won't be long before they stop operating as they should if you use these cleaning methods.
Don't ever use cleaning solutions on wooden blinds or it will damage the wood. Also, don't press hard or mishandle the louvers when cleaning or the staples can work loose.
Faux wood blinds will bend and dent with too much pressure. Once damaged, the louvers will have to be replaced or you'll need to replace the whole wood blind.
Best Way to Clean Wood Blinds
Once dust has a chance to build up on the wood blinds, you'll have a harder time removing it. The best way to keep your wooden blinds clean is to regularly dust them, about once a week. Vacuuming with a soft bristled brush is great for monthly cleaning.
Keep an eye on how much dust accumulates because everybody's house is different, so just figure out how often the dusting needs to be done.
An electrostatic wand will attract the dust to the duster, which is really nice because it doesn't fall off the blinds and get thrown around in the air.
Letting the dust build up to where it won't come off with a duster means you'll have to hand wipe each louver!
Do this by using a dampened soft cloth and make sure you squeeze out the water thoroughly so there are no drips. Clean the top and bottom of all sides while supporting the louvers and other parts with your other hand.
Hiring A Blind Cleaning Service
You can find a blind cleaning service in your local area if you don't want to keep up with them yourself.
This may be the only option for a lot of people who don't have the physical stamina or time to get the work done themselves. Additionally, if you need window treatment repairs, you can find help in your area. In Los Angeles, call NNK Window Covering.